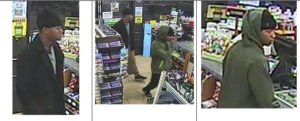 Report #: 17-MSP-014063
On Wednesday, April 5, 2017, at approximately 01:20 am, Maryland State Police responded to the 7 Eleven, 1520 Conowingo Road, Bel Air, MD for the report of an Armed Robbery. Two suspects entered the store, assaulted the victim and forced him to access cash registers. The suspects took an undisclosed amount of US currency and products from within the store.
The suspects fled on foot toward Granary Road. The suspects are described as African American males with medium builds, the first 6'2"-6'4", wearing a black jacket over gray shirt, brown pants and black and white Nike Shoes. The second 5'8"-5'11", wearing a green hooded sweatshirt, black pants, and black shoes. Both wore black knit caps.