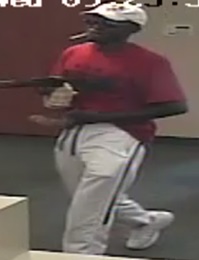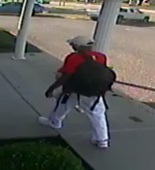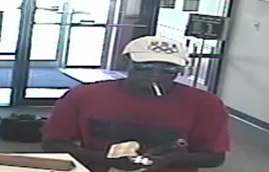 Bel Air Police Department Report #: 2018-00200751
[Bel Air, MD] On Wednesday September 5, 2018 at 9:27am the Bel Air Police Department responded to an armed robbery at the Harford Bank, located at 505 South Main St., Bel Air, MD.  At 9:25am a black male suspect (see photos), approx. six feet tall and 165 pounds entered the bank. He was wearing a white cap, sun glasses, red shirt, white pants and white shoes. He was also wearing a black backpack. After entering the lobby of the bank, the suspect pulled a firearm from the backpack and pointed it at the tellers. The suspect then demanded/seized an undisclosed amount of money from the tellers.
Please contact MCS with tip information and/or Detective Corporal Matthew Gullion, mgullion@belairmd.org  410-638-4522.   
IF YOUR TIP LEADS TO AN ARREST AND CHARGES FILED IN THIS CASE, THEN YOU MAY BE ELIGIBLE FOR A CASH REWARD OF UP TO $5,000 IN THIS CASE.  THE REWARD AMOUNT HAS BEEN INCREASED WITH THE ASSISTANCE OF THE MARYLAND ASSOCIATION OF BANK SECURITY (MABS) AND THE HARFORD BANK.