Baltimore shootout caught on camera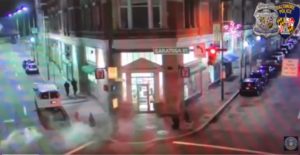 On January 16, 2018 at approximately 1:10 a.m. Citiwatch camera monitors call out an in-progress robbery at the 7-Eleven Store located at 300 N. Charles Street.
Officers arrived on the scene and two suspects opened fire on the officers. The officers then returned fire.  The suspects fled on foot in opposite directions.
No officers were injured, but it's not clear if the suspects were injured. Officers are checking area hospitals for anyone who may have recently arrived with gunshot wounds.
The first suspect is described a tall black male who was wearing a mask, a dark coat, and was armed. The second suspect is a shorter black male wearing all black clothing with a white scarf tied around his face. The second suspect was also armed.
Anyone with information about this incident should call detectives at 1-866-7-LOCKUP.  In partnership with the ATF and Metro Crime Stoppers the reward for information that leads to an arrest and charges in this case is up to $24,000.  You can also contact the FBI at 1-800-CALL-FBI with tips.