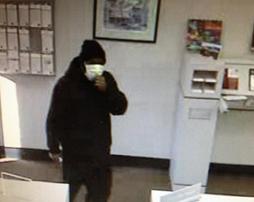 Report #: 12-01196402
(Chestertown, MD): On Thursday, January 19, 2012 at about 2:50 p.m. the Chestertown BB&T Bank was robbed by a male suspect.
The BB&T Bank is located onWashington Avenue, in Chestertown, Kent County, MD.  Officers responded to the above location and made contact with bank personnel who told investigators that a suspect entered the establishment and handed a bank teller a note demanding money. The bank teller handed the suspect the money from the bank drawer and the suspect exited the bank. The suspect stole an undisclosed amount of cash. The suspect was wearing a surgical style mask over his mouth and nose. Once the male suspect exited the bank, he was seen fleeing on foot north from the bank.
Suspect #1:  B/M, approximately 5'08 tall, approximately 170 pounds Black jacket with a hood, black nit cap, black pants, and a white surgical style mask over his face.