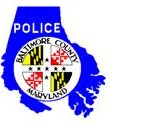 Baltimore County Police have identified the victim from the fatal shooting in Woodlawn September 26th in Woodlawn.  21-year-old Gary Tyshawn Bowser of the 700 block of Westhills Parkway was found shot just after 6pm.
Baltimore County Police officers were in the area of the 1000 block of Coleridge Court when they heard gunshots.  They searched the area, and found Bowser lying on the street suffering from at least one gunshot wound to the upper body. He was taken to an area hospital for treatment and died an hour later.
This incident is being investigated by the Baltimore County Police Homicide Unit. Detectives will be working to determine if this was a targeted crime.
Anyone with information on this incident is asked to call police at 410-307-2020 or Metro Crime Stoppers at 1-866-7LOCKUP.