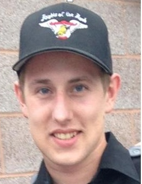 Baltimore County Police and the family of Keith Tawney are hoping somebody remembers what happened on August 23, 2016. It was around 12:34am.  Keith Tawney was walking southbound on North Point Blvd, south of Cove Road, when he was struck by a vehicle going southbound.  The driver did not stop.
Keith Tawney died as a result of his injuries.
Anyone with information is encouraged to submit a tip at 1-866-7-LOCKUP.  Police say there were parts of the vehicle left behind.  The reward is up to $5,000.00 for information that leads to an arrest and conviction against the person who killed Keith Tawney.