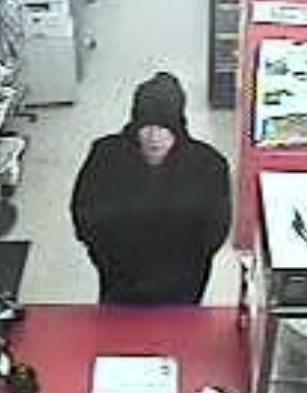 Report #: 12-53-003644
On Tuesday, April 10, 2012, at 9:13 pm, troopers from the Maryland State Police (Bel Air Barrack) responded to a robbery at the High's convenience store located at 4101 Norrisville Road, Whitehall, Maryland.  The High's is located at the intersection of Norrisville Road and Madonna Road. This robbery is likely related to an earlier robbery handled by the Harford County Sheriff's Office which occurred at another Whitehall High's located on Norrisville Road, just south of Route 439.  The suspect in that case wore a green hoody. 
  Upon obtaining an undisclosed amount of currency, the suspect fled the store on foot towards a garage/car-lot located near Jarrettsville Pike.  thesuspect is described as a white male, approximately 25-30 years of age, with "scruffy" facial hair, and brown eyes. The suspect was also described as wearing a black wool hat, a heavy black jacket with black buttons and breast pockets.  The suspect was seen loitering by several by-standers in the parking-lot area just north of the High's prior to the robbery. 
Suspect(s) in this case have been apprehended..