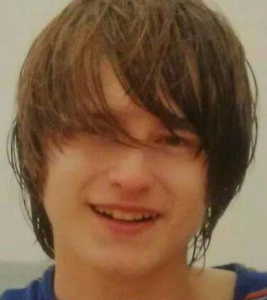 UPDATE:  Additional reward funding (up to $15,000) has become available for information leading to an arrest in this crime.
 On Friday, April 12, 2013, at approximately 9:25 p.m., the Anne Arundel County Police Department investigated a hit and run pedestrian crash that occurred at Mountain Road near Alvin Dive in Pasadena.  Upon arrival, officers located three juveniles on the westbound roadside. One female and one male juvenile were injured. The third juvenile, also a female was uninjured. The two injured juveniles received serious injuries as a result of being struck by a vehicle. The male juvenile (15-year-old male victim, identified as Skylar Marion, of the 4500 block of Mountain Road in Pasadena, Maryland) was transported by ambulance to the Shock Trauma Unit at the University of Maryland Hospital where he later died as a result of injuries sustained in the collision.  The vehicle that struck the two juveniles fled the scene prior to the arrival of the police.
It appears the juveniles were walking on the narrow shoulder adjacent to the westbound lane of Mountain Road with the flow of traffic. The scene investigation determined the striking vehicle was a 1997-2002 Ford Expedition. The Expedition was traveling westbound and continued west on Mountain Road after impact with the pedestrians. The Expedition suffered damage to the passenger side headlight and turn light assembly, which was broken out.  Also, additional  noticeable damage on the vehicle may have included the hood, and passenger side front quarter panel. There is no further information known about the suspect vehicle or its driver at this time.