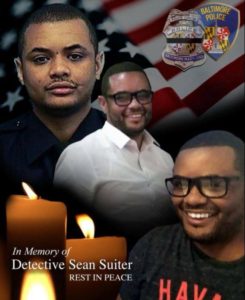 There is a reward of up to $215,000 for information leading to the arrest and conviction of the person who shot and killed Baltimore City Homicide Detective Sean Suiter.
Detective Suiter was hard at work November 15tth in West Baltimore when he was shot on duty.  He died on the 16th from his injuries.
The ATF's Baltimore Field Division, FBI's Baltimore Field Office, DEA's Baltimore District Office, U.S. Secret Service's Baltimore Field Office and Metro Crime Stoppers combined efforts for the $215,000 reward.
There are several tip lines you can call:
Metro Crime Stoppers: 1-866-7-LOCKUP
Baltimore City Detectives: 410-396-2100
Baltimore City Police: text tips to 443-902-4824
Baltimore FBI: 800-CALL-FBI (option 4)
Baltimore ATF: 888-ATF-TIPS
Agencies working together to fund rewards:
$65,000 ATF Baltimore Field Office, DEA Baltimore District Office, FBI Baltimore Field Office, US Secret Service Baltimore Field Office *paid out after arrest and conviction
$5,000 Metro Crime Stoppers *paid out for arrest and charges filed 
$20,000 Anne Arundel Couty *paid out for arrest and conviction
$100,000 Governor Larry Hogan & the state of Maryland *paid out for arrest and conviction
$25,000 UCOPS *paid out for arrest and conviction