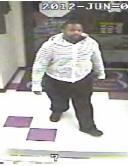 Report #: 2012-114826
The Harford County Sheriff's Office is seeking the public's assistance in obtaining information involving an armed robbery that occurred on Thursday, June 7, 2012 at  approximately 10:30 PM at Jacki's Intimate Boutique located at 1634 Pulaski Highway, Havre De Grace, MD. The suspect pictured above is described as a black male approximately 5'9" in height, medium to heavy build. The suspect displayed a handgun during the robbery and demanded money from the clerk.
This case has been closed by arrest.