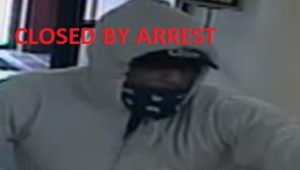 Bel Air Police Department Report #: 2018-00234439
[Bel Air, MD] On Thursday, October 18 at 10:15 am the Bel Air Police Department responded to a robbery at the Harford Bank, located at the 500 block of South Main St Bel Air, MD.  At around 10:14 am a black male suspect (see photo), approx. six feet tall with a thin to stocky build entered Harford Bank and demanded/received an undisclosed amount of cash.  The suspect fled from the bank after the robbery towards the Homestead Village neighborhood.  The suspect was wearing a grey hoodie, had his face concealed with a dark cloth, faded blue jeans. Please contact MCS with tip information and/or Sergeant Henry Marchesani, hmarchesani@belairmd.org  410-638-4515.
IF YOUR TIP LEADS TO AN ARREST AND CHARGES FILED IN THIS CASE, THEN YOU MAY BE ELIGIBLE FOR A CASH REWARD OF UP TO $5,000 IN THIS CASE.  THE REWARD AMOUNT HAS BEEN INCREASED WITH THE ASSISTANCE OF THE MARYLAND ASSOCIATION OF BANK SECURITY (MABS) AND THE HARFORD BANK.