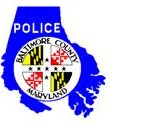 The Baltimore County Police Department is seeking the public's assistance in identifying the suspect in an August 12 attempted street robbery in Owings Mills.
Around 2:30 p.m. on August 12, the 50-year-old female victim was in the parking lot of the Walmart in the 9700 block of Reisterstown Road 21117. She had just returned to her vehicle with groceries when the suspect, who had been in the passenger seat of a vehicle, attempted to pull her purse off of her shoulder. The vehicle started to drive away and when she did not let go of the purse, she was knocked over and dragged a short distance.
The victim was able to hold onto her purse. The suspect vehicle fled the scene without getting anything from her. She received medical treatment for he injuries at the scene.
The suspect is described as a 30 to 40 year-old black male with a brown shirt. The suspect vehicle is described as a 2000 to 2005 white Cadillac with dark tinted windows.
This incident is under investigation by the Precinct 3/Franklin Investigative Services Team.