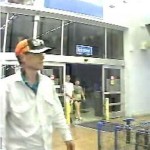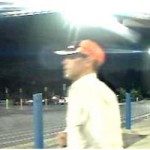 APD Report # 2012-146264
REWARD INCREASED TO $100,000
(July 26, 2012):  The Aberdeen Police Department is seeking the public's assistance in locating the suspect in the above photos.  The suspect is believed to be connected with the abduction of Vi Ripken that occurred on Tuesday, July 24, 2012. Ms Ripken was taken from her home in Aberdeen and transported in her own vehicle, a 1998 Silver Lincoln Town car, throughout areas of Harford and Baltimore County before being returned to her own home early on the morning of Wednesday, July 25, 2012.  There were distinctive bumper stickers on the bumper of the 1998 Lincoln Town Car (see above photo).
The suspect pictured is described as white male, approximately 5'10" tall, 180 lbs., short brown hair with glasses.
A reward hotline has been established for direct contact with investigators: phone #: 410-836-5432.